Welcome to Artificial-Angler.com

My name is Rick Aguilar and I am the artificial-angler.  Artificial-Angler Fishing Guide Service is a multi-species guide service serving Minnesota and Wisconsin.  As my name implies, I use artificial baits, or lures to catch virtually all of my fish.  I feature "St. Croix Rods" while providing a variety of methods and presentations to have a fun and successful day on the water.  All without ever going to the bait store.!

It's not that I don't like fishing with live bait, it's just that I have had great success in my lifetime, fishing with artificial lures.  Over the many years that I have been fishing, I have honed my craft to target and catch a multitude of species, all by use of artificial baits.  I target 5 main species:  walleye, largemouth bass, smallmouth bass, northern pike and musky!  I also like to occasionally fish for other species like catfish or sturgeon and of course panfish.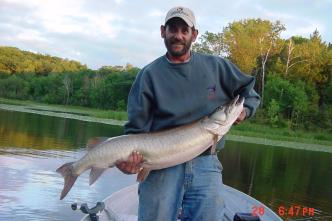 47 inch bucktail musky 2004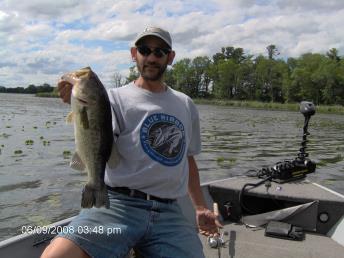 My boat is a 2013 Lund "Impact 1775" powered with a Yamaha 115hp 4 stroke outboard.  This boat is rigged and ready to fish for multiple species in maximum comfort.  Some of its features include: sun/rain top with side curtains & walkway curtain for when the weather gets really bad, Minnkota Terrova 80 lb thrust 24v trolling motor, Minnkota 8'4" Talon shallow water anchor, fore & aft live wells, large casting platforms (front & rear), and "Smooth Moves" seats for maximum comfort in big waves.   It also features 2 Lowrance HDI-7 high definition graph/downscan/GPS chartplotter combos (1 console & 1 bow).  I had this boat custom rigged for multi-species fishing on a variety of water.  I can now handle even bigger water, while still having the ability to slink into the skinny water to hunt bass & musky.  So, if your looking for an all around good time on the water,  please book today!